Do you have such a request? "We want a resin product with this kind of performance." or "Are there any resins that can be used for XX?" At Pelnox, our first priority is to meet the needs of our customers, and we can assist you choosing the most suitable products from the ranges from incumbent to developing products. We have a wide range of resin products such as epoxy, urethane, and silicone. We launch new products every day to meet the diversifying needs of the times. We sincerely hope that we will be able to meet the needs of our customers with the technology we have accumulated as a formulator.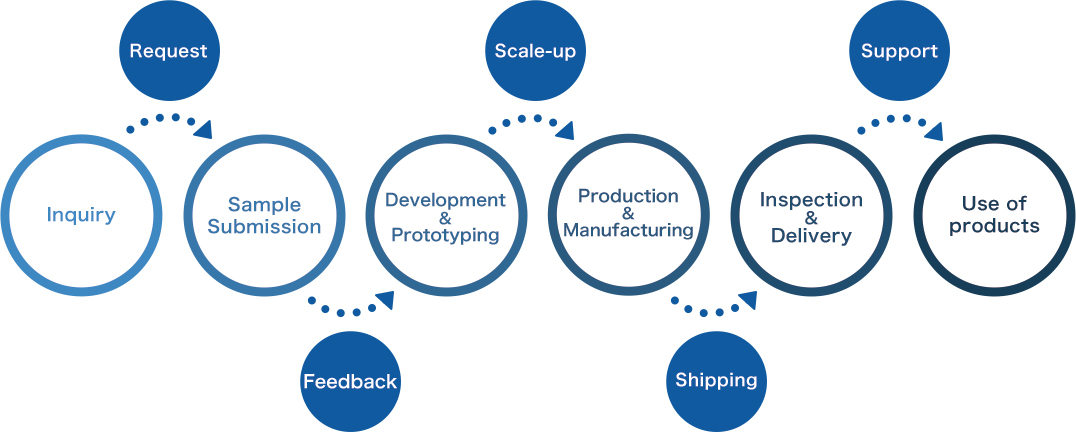 INQUIRY

Request survey
Introduction of products

Please let us know your desired product or request by using the inquiry form or by phone. Our sales staff will be happy to assist you in your search. We can also introduce products that are not listed on our website. If you would like a catalog, please feel free to tell us.

Sample Submission

Confirmation of usability
Feedback

We will select products from our lineup that meets your needs and provide you with a sample. With the samples tested, we will ask you for feedback on usability and further requests, and if the product needs improvement, we will cooperate with the development team.

Development & Prototyping

Optimization of specifications
Customization

If it is necessary to improve an existing product, our R&D team will modifiy the products based on customers's feedback. Through close communication with our customers, we will design and make prototypes to optimize the product to meet their needs, taking into consideration product specifications, storage stability, and cost.

Production & Manufacturing

Manufacturing scale-up
Manufacturing plan adjustment

If you are satisfied with the product specifications, we will prepare for mass production. Before mass production, we will conduct pre-testing and verification on the production line to ensure a stable supply, and then manufacture the desired product in our ISO certified manufacturing facility. We are flexible in terms of schedule adjustment and manufacturing scale.

Inspection & Delivery

Quality control
Schedule Adjustment

Manufactured products are quality-controlled for each lot by skilled inspectors and various measuring and analyzing instruments, and only products that pass strict internal standards are shipped to customers. The moment our products are sent out and delivered to our customers is the most gratifying moment for us.

Use of products

Use of products
Customer Support

The customer will be able to use the product. If you have any questions or problems using the product, please contact our sales and technical team for support. If you have any further questions or problems with the product, please feel free to contact your sales representative.
Please click below to find the product you are interested in.
If you don't know how to find, please contact us for help.